CHANGING THE WAY THAT SWITZERLAND DRINKS
SIP BY SIP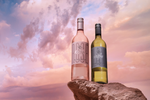 our standard charges with SWISSPOST VinoLog
HASSLE FREE DELIVERY
STANDARD delivery (2-3 days)
NEW TO ALCOHOL-FREE WINE?
Take this 7 questions sweet & short personality quiz, and we'll set you up with your ideal alcohol-free wine buddy! Are you ready?
with each bottle purchased you can
make an almighty difference
VE Refinery donates 2% of all profits to Almighty Tree. Seeking to design a sustainable future and improve the social, economic and environmental well-being of our communities. Almighty Tree focuses on the enhancement of our woodland heritage, as well as the development of our forests and biodiversity in Switzerland.